In this post, we are going to solve Reacher, a unity ml-agent environment, using deep deterministic policy gradient (DDPG) method introduced by Lillicrap et al.
Reacher
In this environment, a double-jointed arm can move to target locations. A reward of +0.1 is provided for each step that the agent's hand is in the goal location. Thus, the goal of our agent is to maintain its position at the target location for as many time steps as possible.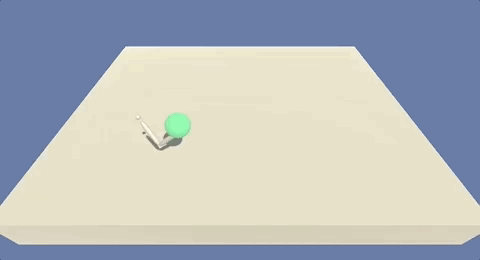 The observation space consists of 33 variables corresponding to position, rotation, velocity, and angular velocities of the arm. Each action is a vector with four numbers, corresponding to torque applicable to two joints. Every entry in the action vector should be a number between -1 and 1. This means that environment requires the agent to learn from high dimensional state space and perform actions in continuous action space.
Previously we looked at value based methods such as DQN and simple policy based methods such as hill climbing algorithm to solve environments with continuous state space but discrete action space. It turns out that neither algorithm is well suited to solve Reacher; DQN will require finding an action that maximizes the action-value which in turn requires iterative optimization process at every step; hill climbing methods could take forever as they rely on randomly perturbing the policy weights.
REINFORCE, policy based method, can learn the policy to map state into actions but they are sample inefficient, noisy because we are sampling a trajectory (or a few trajectories) which may not truly represent the policy and could prematurely converge to local optima.